SOCIAL, FEEL GOOD CAUSES, MADE IN USA ARE MOST POPULAR DURING A RECESSION
by Julieun Kawasaki (Command Packaging parent company of RestaurantBags.com)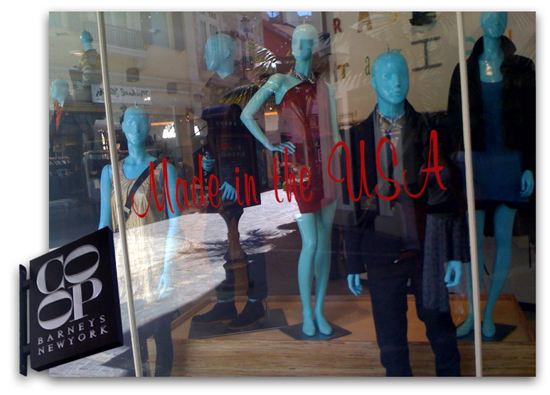 A trendy Barneys NewYork CA store prominently communicates, "Made in the USA" on the front of their feature window display.
Despite the cut backs of funding for many organizations, goodwill towards man is a focus for many PR campaigns. As a result, USA made products are the most "feel good" sought after buy during a recession when sending jobs overseas may seem unsettling with unemployment rates rising in the US.
Restaurants reveal their most creative and generous sides:
Yum Brands started 2010 by directing $500,000 to Haiti through its world hunger relief efforts. Command Packaging also donated supplies of trash liners and other bags to aid in Haiti's clean up efforts.
In October 2009, Qdoba Mexican Grill™ sent a message about helping communities with their "Qdoba Qmmunity" that honors "Everyday Stars Who Dedicate Time and Energy to Improving Their Own Communities with $5,000 and Starlight Fun Center Donations™".
Carl's Jr. continues its scholarship program in 2010 by offering another $60,000 of scholarships in honor of its founders.
Cold Stone Creamery sent a public invite in September 2009 to visit one of its many creameries and make a donation to the Make-A-Wish Foundation to receive a FREE 3 oz serving of Jack's Creation, the featured creation made by 5-year-old wish child Jack .
McDonald's USA launched in September 2009 a contest to send 10 children to the 2010 Olympic Winter Games in Vancouver.
The demand for Made in USA products are growing and choices are much larger than most people realize as many USA made goods can be found in national retail stores.
Nordstrom's online product search tool pulled over 3000 items under "MADE IN USA"
Macy's, not quite as large, revealed a healthy 815 items in their "MADE IN USA" search results.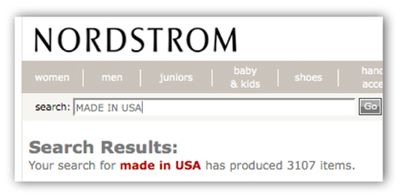 Bloomberg's BusinessWeek reported, "Made in USA still means something...U.S. is still the world's leading manufacturer and in most of the world, Made in the USA is still synonymous with quality and high value."