TRENDS: RECYCLING
by Julieun Kawasaki (Command Packaging parent company of RestaurantBags.com)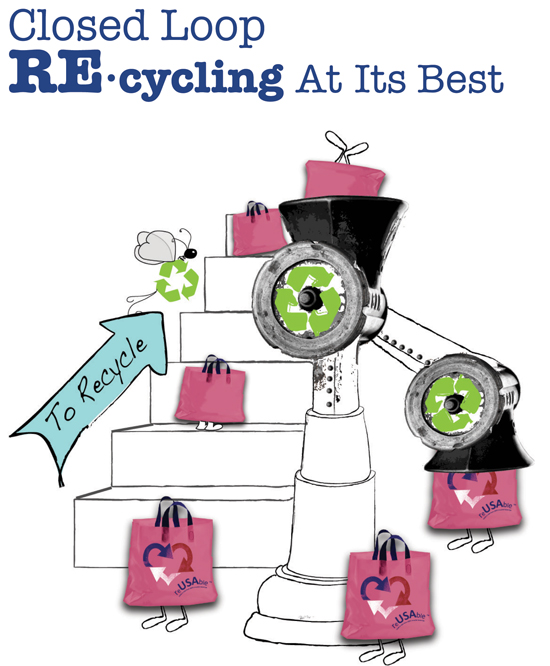 Environmental issues push a manufacturer to lead industry efforts in recycling.
The leading US manufacturer of polyethylene carry bags, Command Packaging, launched the first officially state licensed RE-cycling center (CPR3) by the California State Department of Conservation, providing a closed loop program that has helped retailers and restaurants divert their RE-cyclable plastics into their own custom RE-usable carry bag solutions. Since 1989, Command Packaging has diverted millions of pounds of used plastic from the waste stream and into useful product solutions that are 100% RE-cyclable over and over again.

Pete Grande, president and CEO of Command Packaging states, "There is much misinformation about the RE-cyclability of plastic, but having RE-cycled products for over 20 years, we know first hand that RE-cycled plastic's integrity is as good, if not better than its virgin counterpart - the environmental impact from energy savings, CO2 emissions, RE-duced plastic waste, water savings...are too substantial to ignore."
Retailers and restaurants like the Nordstroms, The Cheesecake Factory, Noodles & Co and The World Market - Cost Plus have all benefitted from the RE-cycled materials collected from the RE-cycling center. 7 For All Mankind, a national clothing brand, just down the street from Command Packaging, enjoys pick up service from CPR3. The center collects the RE-cyclable plastics to turn much of the materials back into its own carry bags.
"For some, used plastics may seem like trash; to us, they are a valuable resource as they decrease our manufacturing costs, lower demand for virgin materials, and ultimately deliver value-added cost savings to our clients." ~ Joe Delgado, VP manufacturing.
"It takes 91 percent less energy to recycle a pound of plastic than it takes to recycle a pound of paper." ~ U.S. Environmental Protection Agency Reports.