RESTAURANT TRENDS: REINVENTING BUSINESS
by Julieun Kawasaki (Command Packaging parent company of RestaurantBags.com)
RE-invent [ RE-(Latin-prefix) again, backwards, roots ] [ re•in•vent (transitive verb) 1. invent something again 2. create new version of ]
As its Latin origins suggest, the prefix, "RE" indicates all trends are leading backwards to their roots.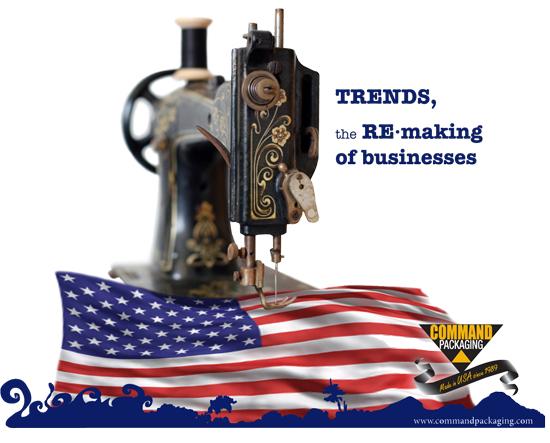 Starbucks is always in touch with trends as it continues to RE-invent itself while staying connected to its roots. Back in 2007, Starbucks' chairman, Howard Schultz was featured in BusinessWeek as a chairman "...on a mission to take his company back to its roots". In 2008, New York Times headlines included, "Starbucks Plans Return to Its Roots". Early 2009, Starbucks launched "Back to its roots with Cafe Concept" and a "pledge to get back to its roots, and fast". For the past several years, the chain explored everything from breakfast offerings, music sales, cafe RE-novations, to the recent instant coffee ventures. Starbucks RE-inventing seems to be making an impact - made evident by the positive news of improvements in its 09 fourth quarter earnings and overall health of the organization.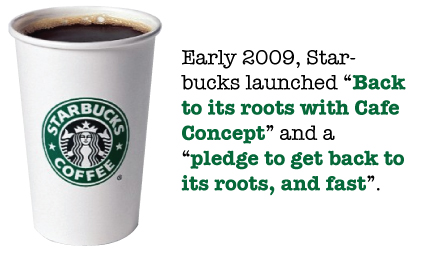 Since the third quarter of 08, Gap Inc has also RE-grouped with many of the same "back to its roots" efforts needed by big chains that have lost their way. The retail chain reports more back to the basic clothing expansions, RE-duced advertising costs, decreased the gap time from concept to rack and RE-defined the age demographic from "18 to 24" years to the "25 to 35" year age group. Patrick Robinson, Gap's design chief, leads the way by bringing more of the basics from the original Gap concept, while being mindful of new fashion trends - not an easy balance. The media also reported that his plans included making direct connections with local store managers to uncover the heart of the issues, especially with quality, sizing and other local issues that may not be within the designer's radar. Robinson added, "It's going to take this whole company to do it." Robinson's influence and overall corporate strategies to RE-duce, RE-define, and "back to its roots" of "RE" efforts seem to be generating positive movement; the improved progress was reported in Gap's October 09 earnings reports that revealed a 4 percent increase over the same period in 08.