Reliability and Transparency
Reliability and Transparency
TRENDS: RELIABILITY AND TRANSPARENCY
by Julieun Kawasaki (Command Packaging parent company of RestaurantBags.com)
With an increase in misinformation, decreased consumer confidence in the economy, it's more important than ever to deliver reliability, offer transparency of actions, and continuously improve services and products.
Consumer trust gained through supportive information.
With consumer confidence levels at an all time low, it's important to keep customers' trust and in many cases, consumer perception can be changed with validated and supported facts. In affirmation, Technomic, a leading restaurant industry research group, surveyed consumers nationally about their perception on the different types of carry bags available to restaurants. Surprisingly, the report revealed that a majority of consumers preferred plastic over the alternative products for its RE-liability (leak and tear resistance), convenience, and overall carrying ease and durability factors. These same consumers were also given an educational background on the environmental aspects and many of those (13%) that disliked plastic changed their views, revealing a 90% preference to plastic for their takeout meals.
Technomic further illustrated that a majority (77%) of consumers surveyed viewed the takeout bag as important to their takeout experience:
The majority of consumers view takeout bags as important or very important to their overall restaurant experience.
The most important factors related to takeout bags according to consumers are leak resistance, allowing food containers to stand up, tear resistance, ease of carrying, and overall durability.
Environmental factors such as RE-cyclability and bags that are good for the environment have some importance in the eyes of the consumers.
Among the different takeout packaging products probed, plastic bags have the highest incidence of RE-use.

~ Consumer data provided by Technomic Inc. For results of the complete study, please contact Command Packaging.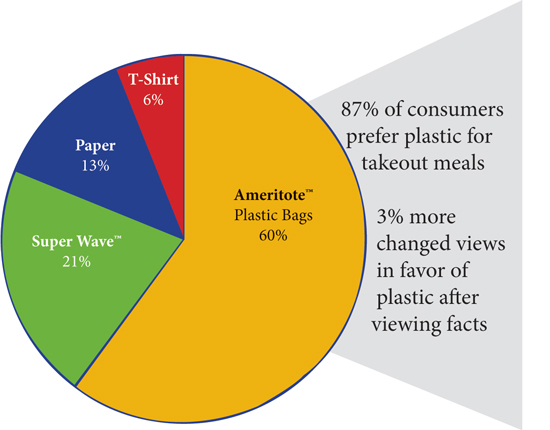 The Conference Board Consumer Confidence Index® reveals levels are significantly low compared to the highs of 1985.
According to the recent Conference Board's national consumer confidence survey released in January 2010, within the sampling of 5000 US households, consumer confidence rose for the third consecutive month. However, the current level stands at 55.9 which is considerably lower than the 1985 level at 100. The organization further reported "that consumer's short-term outlook, while overall is more positive, was somewhat mixed. The percentage of consumers expecting an improvement in business conditions over the next six months decreased to 20.0 percent from 21.2 percent, while those anticipating conditions will worsen increased to 12.7 percent from 11.8 percent."